Intimate Nuptials during COVID-19 moving forward with your nuptials What are your options?
Twenty-twenty couples have been faced with some pretty difficult decisions regarding their events. The unknown future of gathering sizes and the ever-changing animal that is COVID-19 has made planning this year nearly impossible. From totally canceling events to creating plans B and C, couples have been struggling to figure out what the right thing for them to do is. Each time we have tackled an event changing this year, we have presented all the options but helped guide the couple to make the decision that is ultimately very personal and a suits them, their families and their guests best. Through all of this, though, couples who do not cancel their events are often deciding to still tie the knot this year, even if they have postponed. Once they have determined that an event of the scale they once hoped for is not possible, but they still want to be married this year, they must decide what type of nuptials fits their vision best! Let's take a closer look at what the options are!
What is an Elopement?
An elopement is traditionally something that occurs spontaneously or without most people knowing you are going through with it. The focus of an elopement is really the most intimate reflection of the couple, none of the traditional wedding frills, no added complications for accommodating more guests, or planning for a gathering. This is a great choice for couples that want to keep things as low-key as possible, can be the most cost-effective choice if still planning an "event" of sorts and can be the most different way to exchange vows if still hosting an event the following year.
However, this is also completely personalize-able! If having 1-3 key people is super important to you, bring them! If letting people know ahead of time is important, tell them! If you're looking for a totally unique, non-traditional ceremony location that wouldn't be possible for a "traditional" wedding, this might be the way to get the best of both worlds! As someone who eloped myself, marrying my husband atop Mt Mansfield with no one but my sister, our officiant and our photographer, in a snowstorm was perfect. Had we chosen to host a "traditional" wedding, we would not have been able to hold an outdoor winter ceremony or walked a whole guest list up a mountain. It was a truly personal decision not to tell any of our friends and family know ahead of time, and announce it afterwards, as it should be for you when making your own plans!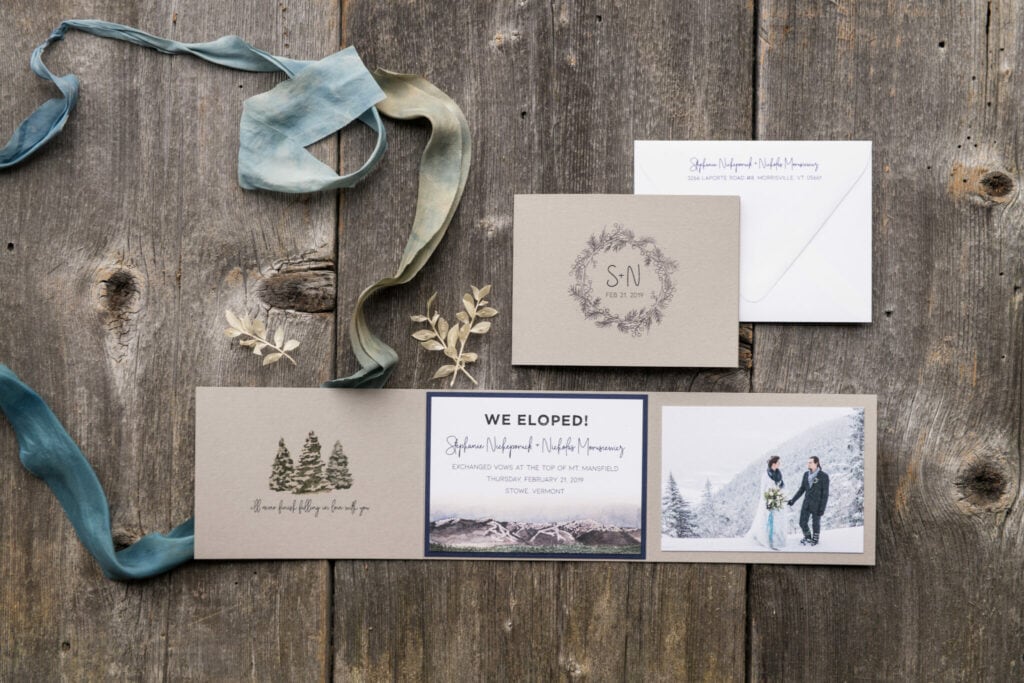 What is a Micro-Wedding or Intimate Wedding?
A "micro-wedding" or intimate wedding is essentially a traditional wedding scaled down. These tend to have a guest count of 20-50 guests total and will be timed similarly to a traditional wedding day. Getting ready, first look, ceremony, photos, cocktail hour and reception. Opting for a more intimate wedding has several benefits, in today's circumstances, it can fit within the recommended CDC gathering sizes, it can help alleviate financial commitment or, alternatively, allow you to spend your budget on more details and design versus allotting the funds to rentals and catering for a larger guest count. It can also allow for a larger selection of venues for your events as a smaller guest count is easier to move around or potentially fit in a favorite inn or restaurant.
This is a great route for couples that are not interested in postponing their full event but still want the essence of a traditional event. Scaling back your event can take some creative turns as well. Does scaling back mean you are not meeting your food & beverage minimums? Maybe you add a welcome party the day before and spread out the costs! Vendors are typically willing to get creative with you and scaling back the wedding day could also mean spreading out your event over the course of a weekend! Just like an elopement or a traditional wedding, this is all about you, the couple, so make it personalized, and do what feels right for you!
What is a Minimony?
"Minimony" is a term coined by The Knot to describe a very small and intimate ceremony where a couple can share their commitment to one another. If you want those five to ten important people with you, and signing the documents at the Clerk's Office isn't your style, and you're still looking for something that feels like the ceremony you would have had, a minimony might be the best choice for you!
Smaller than a micro-wedding at a maximum of ten guests, a minimony is a great way for you to still exchange your vows in a romantic setting, while knowing that you and your loved ones in attendance are all safely following guidelines. Many couples opt to host their minimonies on their original wedding date in order to still lock that special day down as one of significance. Your minimony can be a mini-reflection of what your wedding would have or will be, including several of your vendors being involved, from your gown maker to your florist, it can represent who you are as a couple and the experience you would have or will have at the original scale reception.
With an event of this size, you can speak with your planner to coordinate having a small cake or sweet treats delivered and dropped off by your bakery, a catered meal delivered to your home, or book a room at your favorite restaurant for an intimate dinner. Personalization is still key to making the day all about you and your love for one another!
Whichever route you choose to go, it needs to be what is right for you! Whether that is something completely private, vows shared between the two of you in your favorite secret place, a small wedding that still gives you those traditional feels, or a combination of the two, with a few key people in attendance, but low-key enough that everyone feels comfortable in today's world, in the end, it's still your special day and should be a reflection of your love for one another!
We hope that reading through this helped to provide a clearer understanding of potential options you may have for your wedding day! Your vendors and families will want to help make your experience special and will be open to planning around your needs and desires! Twenty-twenty has redefined wedding expectations and we believe this is the start of non-traditional becoming the new normal.