I am particularly excited to tell this story because it's mine! Nick and I met at Stowe Mountain Resort, both transplants to Vermont and employees at the mountain. Our shared interests and overwhelming love of winter and snow made for an easy friendship and lead to falling in love in the snowy tundra of the coldest winter either of us has experienced so far.
The decision to elope was a spontaneous one. He knew I had grand expectations for a wedding day, detailed design, a fully encompassing wintery experience for us and our guests, and so financial responsibility continued to push back any wedding plans we might have made. One evening, doing nothing particularly special in our apartment, on the brink of starting wedding season with the company, I asked, "Do you just want to elope?" and just like that, in August 2018, we started planning our secret elopement.
The most difficult task, by far, was my attire. I knew what I wanted, and so the search started with gown designers who might have a wedding skirt similar to what I was looking for. Carol Hannah was my first stop and their Anthorium printed skirt was my first serious inspiration, from there I decided I would make the skirt, finding the pattern that best suited our design. I began scouring fabric stores and the internet for the right wintery, branched pattern and spent months with no luck at all. Eventually, I accepted defeat and chose a different pattern altogether, from what I originally envisioned, and realized the skirt creation might be more than I could handle… enter Lucy Burdick.
Lucy is a retired teacher, fine china connoisseur, talented seamstress, and an overall wonderful person. When I approached her about a sewing project and revealed what it was for, she gleefully told me she'd hoped it was for my wedding! I couldn't have asked for a better experience, and more talented person to take on the project of creating my wedding skirt from scratch. I can also never thank her enough, for it was Lucy who found the branched pattern that would make my skirt! It was as if she had reached into my head and pulled the image I had out and made it a reality!
I cannot thank Kristin from Stowe Mountain Resort enough, she truly made everything possible, and Nick & I couldn't be happier. Alyssa from Apotheca Flower Shop fought off snowstorms and haunted rooms to hand deliver my bouquet, which I'm happy to say dried beautifully and now hangs in our little home, bringing happy memories every time I look at it! Jamie Dragon has some kind of magic in her products, because whatever she did to my hair and makeup withstood a snowstorm and some pretty spectacular wind. Pure magic. Then, when it came to marrying us, we could not imagine anyone other than Mitzi McInnis for the job! Having known us before our relationship, and getting to see it from the beginning, we were happy to have such a caring friend be the one who united us in this life long partnership.
Lastly, I must mention Paul, from Illume Studio, who's positive outlook and boundless energy never ceased throughout the day. Challenging conditions doesn't even begin to do it justice, but no matter the weather, or temperature, he captured what can only be explained as the most magical day of our lives. From our ceremony at the top of the Gondola, to adventuring around the top of the mountain, riding lifts, snowboarding down with my favorite ski buddy, and finally a break in the storm and spectacular views of Smugglers Notch. I married my best friend in the only place that made sense for us. Where we met, where we fell in love, where our shared passions live, we cannot thank Stowe Mountain Resort, Paul and the rest of our team enough, we are truly grateful for everyone that made our elopement possible.
One thing is certain, we are thrilled to have eloped now, instead of waiting for a wedding day. Eloping allowed us to truly be ourselves, created a uniquely tailored day to who we are. We shared our special moments with only those involved and my sister and her boyfriend. The intimate setting, and their up-for-anything attitude made our adventurous day possible. To later announce our elopement, we teamed up with Admire Design to create an equally uniquely ours announcement suite. We were blown away by Adrienne's hand painted rendition of our mountain and thrilled to include one of Paul's spectacular images as a part of our stationery. With this piece, we announced our elopement to our closest family & friends. For anyone on the fence about eloping just the two of you, I can vouch for those who love you, that while they may be sad to have missed it in real-time, their love for you will overpower that and they will be happy your day was truly yours and about the love you share with your partner.
Love strong. Adventure forever.
-Stephanie
Check out our whole gallery here: https://jaclynwatsonevents.com/winter-wedding-elopement/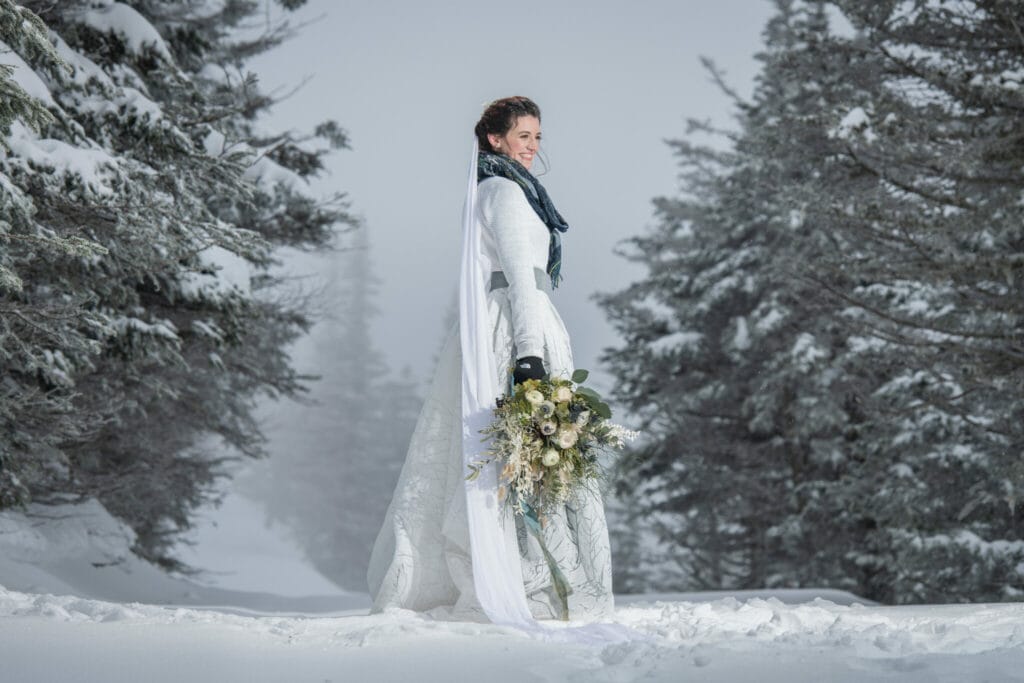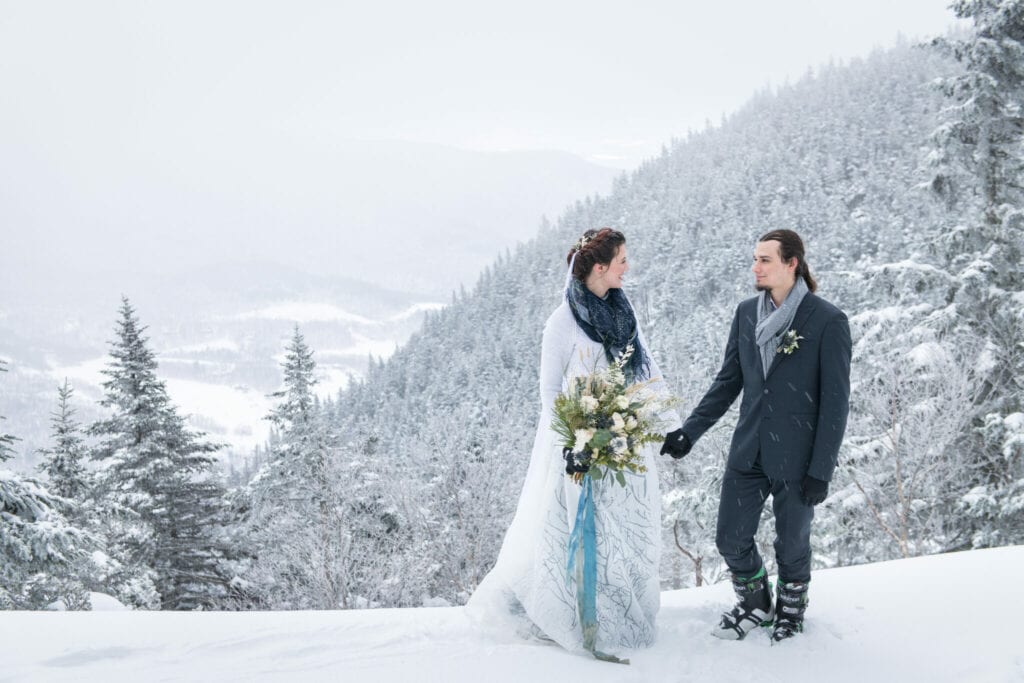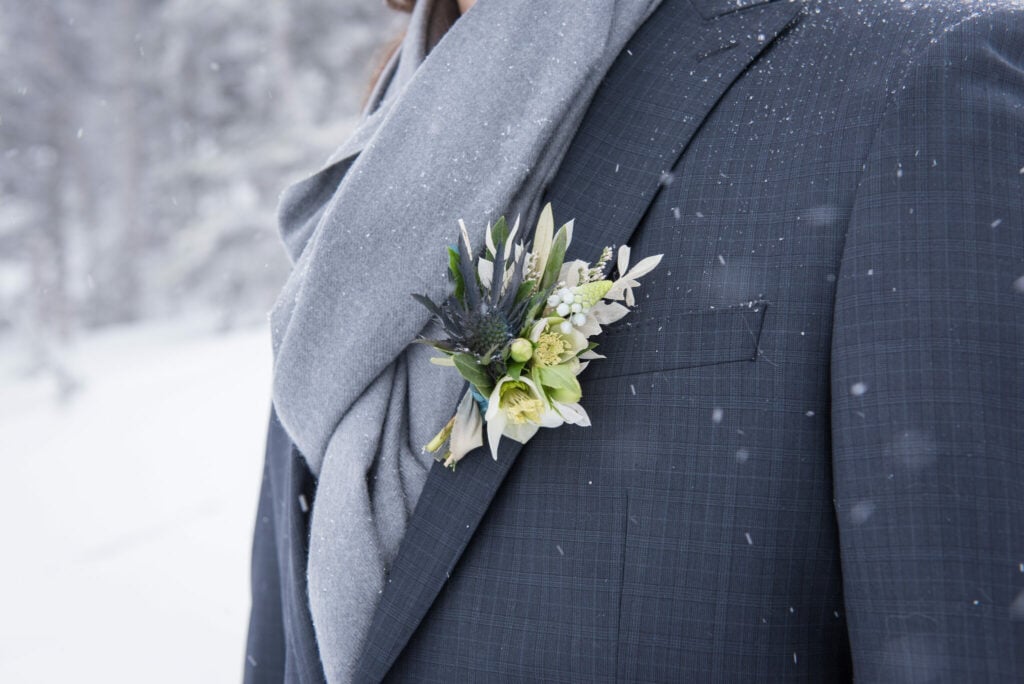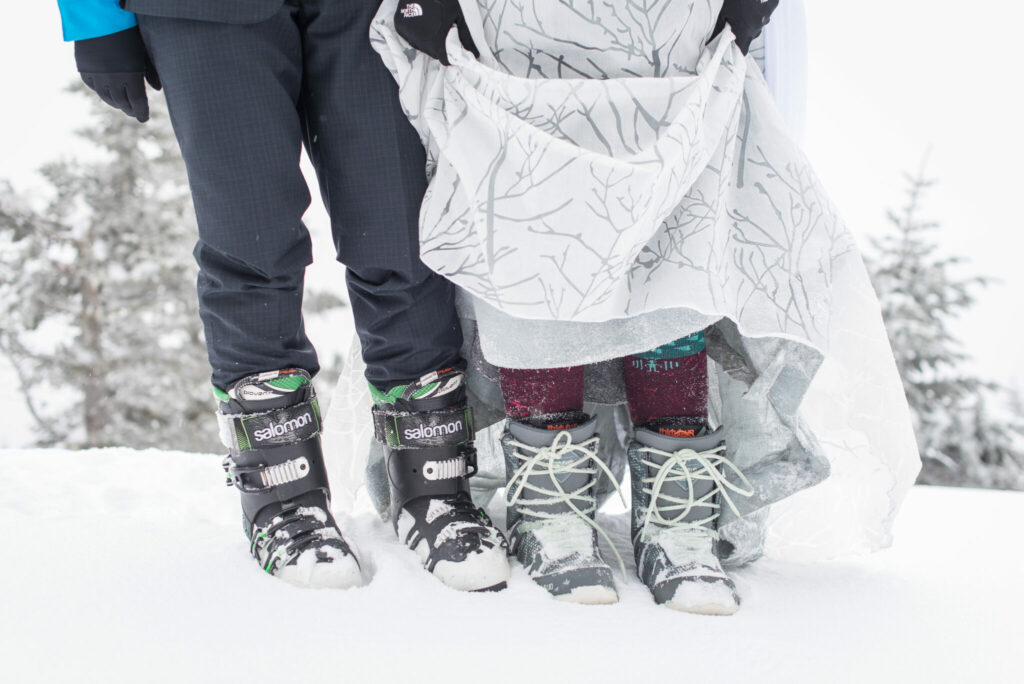 Photography: Illume by Paul Reynolds – Venue: Stowe Mountain Resort – Floral: Apotheca Flower Shoppe – Hair & Makeup: Lush Salon – Stationery: Admire Design – Custom-made Skirt & Veil: Lucy Burdick – Rings: Tippy Taste & Sarah Graham