The same care and attention we give weddings is available for corporate and social events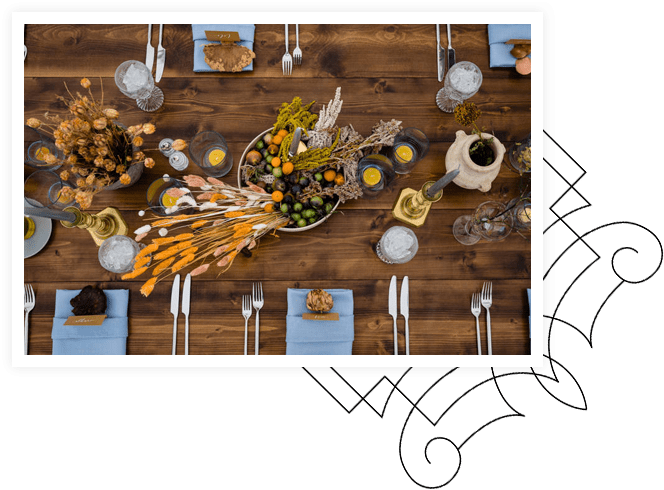 Unforgettable Corporate and Social Events
The perfect strategy for your next event will be designed with you in mind. Our team helps businesses, non-profits, and individuals identify their goals, then create an events plan to meet them—all while considering budget constraints and logistics.
We start by designating an in-house team of experts who can help find creative solutions that align perfectly with your goals. We do all of this while keeping your vision in mind so that you can enjoy the experience of the event as well.
Knowing that your participants are the backbone of your event, we will ensure they have an unforgettable experience from start to finish. We know the success of an event depends on their experience, from being visually pleasing to how much fun everyone has while attending. This feeling creates a connection between those involved, which sets your event apart from the others they have attended.
To create something exceptional, your mindset must be relentlessly focused on the smallest detail.
"Jackie Watson and her team made my experience a complete joy. Jackie helped pull together my vision while adding her own touches and recommendations. The moment we saw our tent for the first time will always be one of our most cherished memories. I don't know how someone could invest in a luxe wedding without having someone like Jackie to guide the way."
— Hillary & Adam
"Going above and beyond would be an understatement for Jackie and her team. Jackie is a professional, a perfectionist, and will work every detail until you are completely satisfied … and then some. I now consider her a dear friend, and I admire her." 
— Emily
"Jackie, you are the problem solver and big picture person. You remain totally calm on the exterior as the wheels are churning inside solving any crisis that may arise." 
— Linda
"Working with Jackie and her team was an absolute pleasure from start to finish. Jackie had impeccable taste, understood what we valued, and helped us to give ourselves and our guests an unforgettable experience."
— Christine & Matt