Journey with us into a Scotland Destination wedding with Christine & Matt, a sweet couple from Connecticut who enjoy the adventures of exploring new countries as much as a weekend in together, reading or sharing in hobbies, chose Edinburgh, Scotland as their destination wedding location! A city they have enjoyed exploring together, and a favorite for the groom, Edinburgh is near and dear to their hearts. A small collection of about seventy-five guests traveled to Scotland to celebrate their love story.
Signet Library encompassed the class and tradition they hoped to bring to their wedding date, as well as providing a bookish environment for these two intellectual readers to really showcase one of their favorite passions!
Together with their bridal party, C&M took advantage of great photo opportunities on the Royal Mile, on a rare and sunny day, with their photographer, Oksana Kuklina. Their ceremony took place inside the lower library, beneath an illusion arbor of breathtaking spring flowers and branches.
After enjoying the cocktail hour to the soft sound of a string quartet, guests headed up the grand staircase toward the upper library and reception. There they enjoyed a detailed catering menu, which included a tea break, providing a formal, and very European experience for guests, many of whom had never visited the United Kingdom before. Signet Library's service is truly top-notch and left a lasting impression for all in attendance.
Narcissus Flowers & Plants created the most incredible spring centerpieces that both matched the recent blooms throughout the historical city and elevated the tables to match the elegance of the venue. A mixture of high and low centerpieces played off the immense height of the library ceilings and a unique collection of historical and favorite books from the bride and groom mixed into the table design for an extra personal touch!
Real flame, beautiful blue, cream and peach taper candles paired with the soft spring colors in the flower arrangements added a truly stunning element to the table design. As evening settled, it was time to kick off the party, and an emotional song was sung by the groom's sister, Shana, and her dear friend, Michaelle, for the bride and groom, 's choreographed first dance. Tear filled precious moments followed by equally emotional parent dances opened the floor up for an evening filled with laughter, closeness and unforgettable memories between a group of people who truly loved the bride and groom.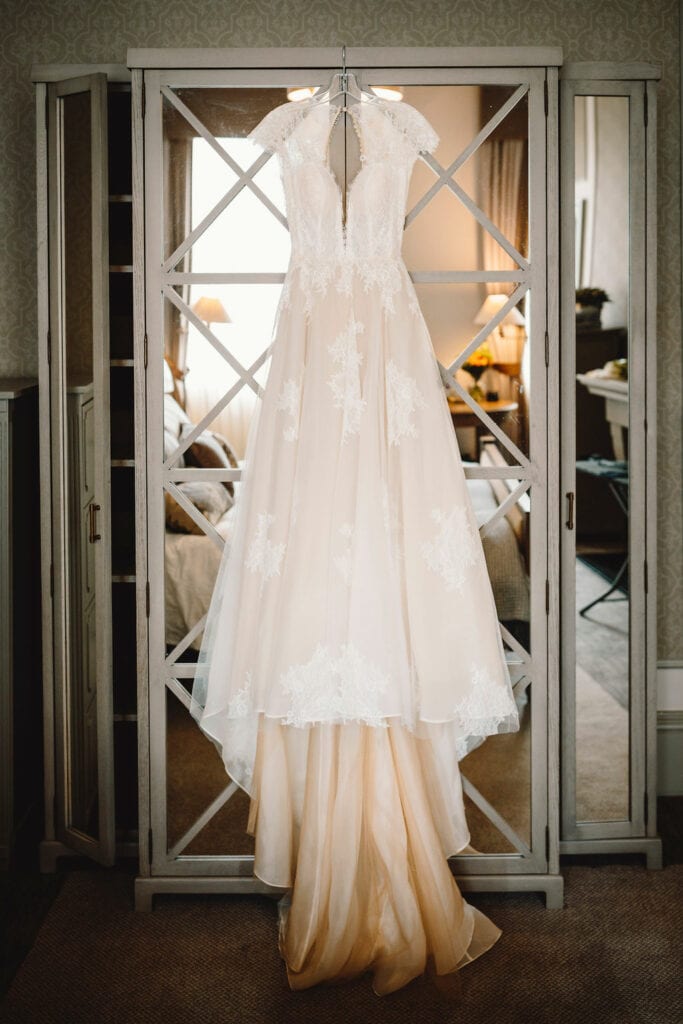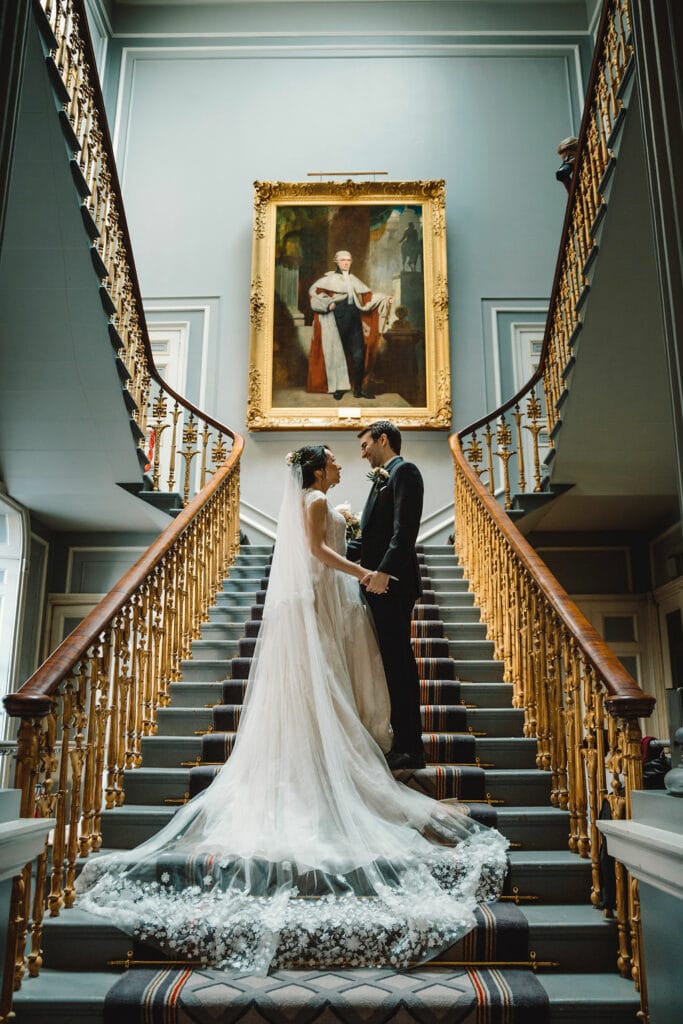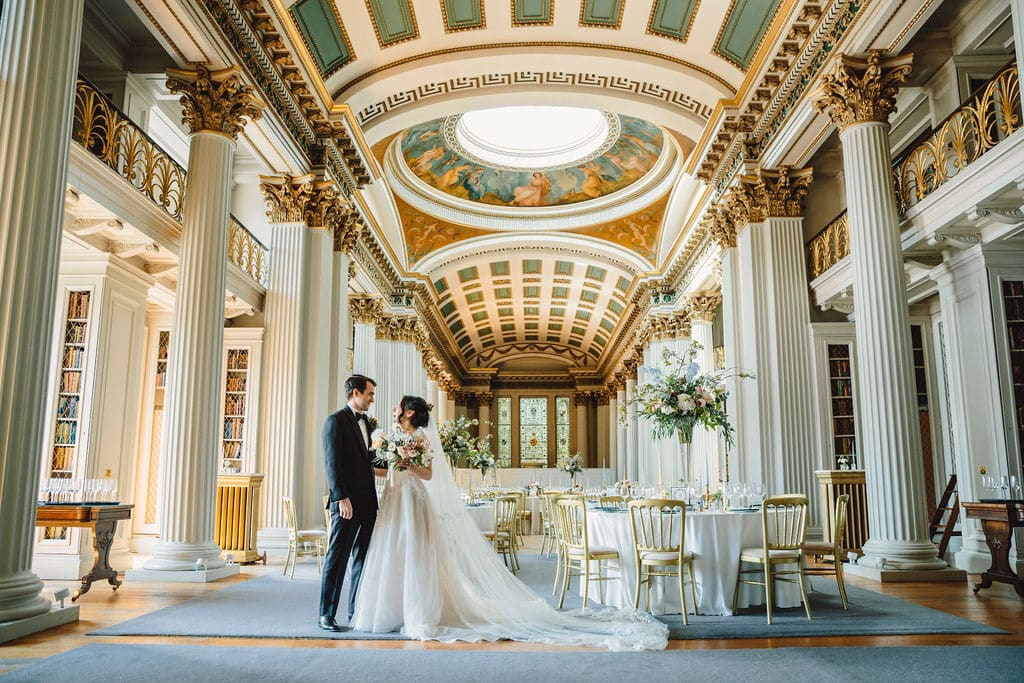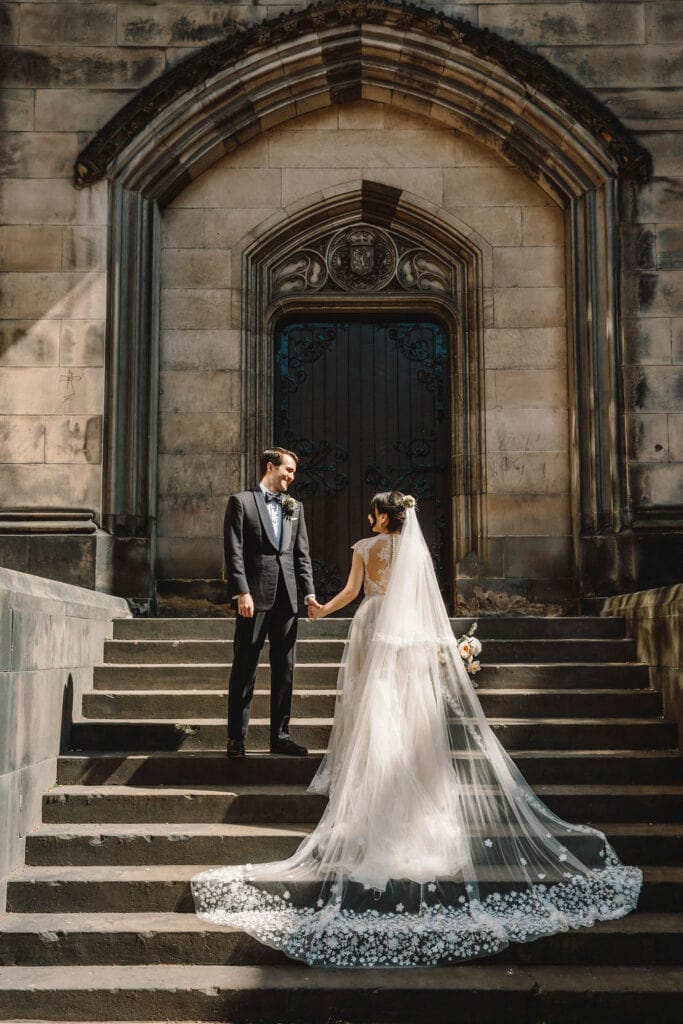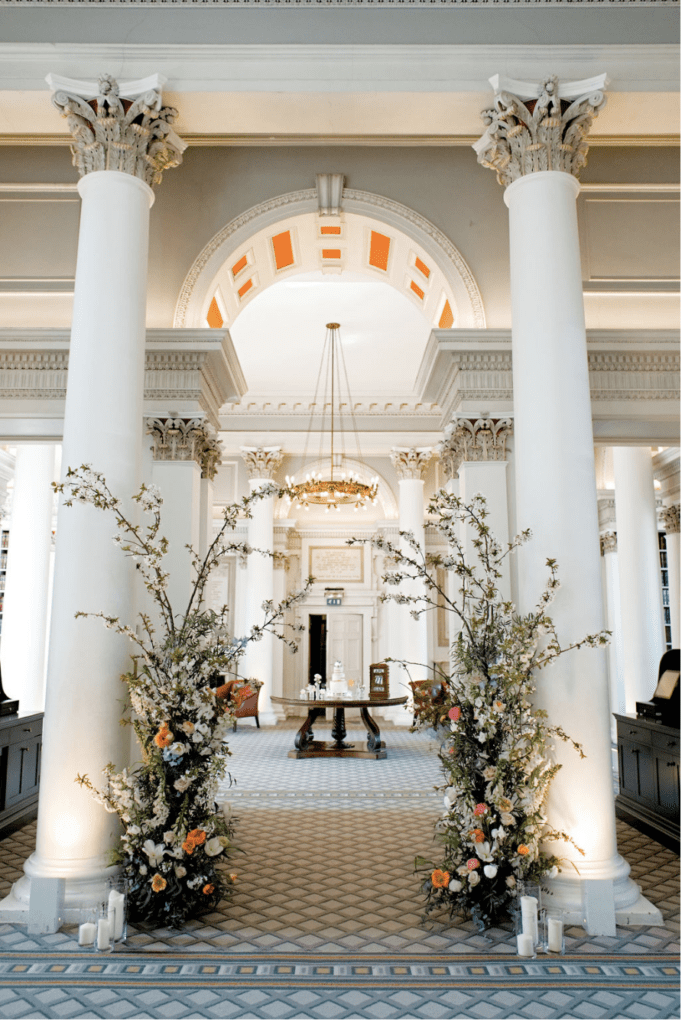 Edinburgh, Scotland – A Formal Affair
Venue, Rentals, Catering & Bar: The Signet Library – Photography: Oksana Kuklina Photography – Floral Design: Narcissus Flowers & Plants – Ceremony Music: Carin String Quartet – Reception Music: Manhattan Band – Stationery: Admire Design – Cake: Liggy's Cakes – Hair & Makeup: Emma Motion – Gown: Yumi Katsura – Veil: Tadashi Shoji – Shoes: – Welcome Party: The Balmoral Planning & Design- Jaclyn Watson Events