The wedding industry sees a lot of its trends develop from both the fashion and interior design industries. Something that has been growing over time across many platforms is a desire to cultivate an existence that is more aware of its effects on everything around it. Whether that's where the food feeding the event is coming from, how the power used for an event is generated, reusability of items, zero-waste, organic, natural, you're all familiar with this movement by now. We're happy to tell you that the "woke" generation is going nowhere and they are continuing to develop ways to live a more organic existence while not compromising modern day comforts.
"Green living," as it's coming to be called, is a lifestyle choice and it is reflected in what people eat, what they wear and now growing into what they design their homes to look like and function like, organic interiors will be big for 2020 and moving into the foreseeable future. "Organic" can mean a lot of different things, this can be materials sourced and produced through bio-conscious means, it can be living simply and off the grid, it can mean natural woods and stone used in a home, it can be indoor gardens and living walls, "organic" can be a lot of things and we'll get into how we apply this to events shortly.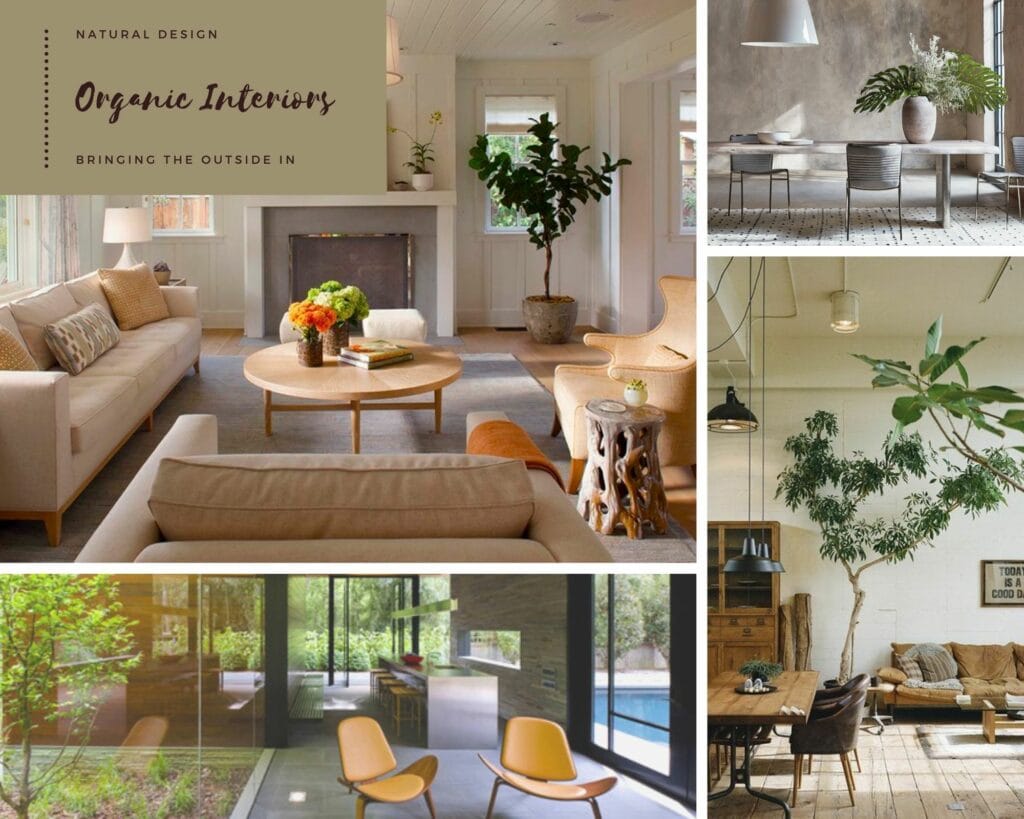 In addition to organic interiors, the Wellness Kitchen is growing in popularity. This is used to describe the particular designs chosen to cater the function of a kitchen's food storage, preparation, cooking, and disposal with wellness in mind. All these elements are chosen with fresh, living, and organic ingredients in mind. Popular trends for a wellness kitchen can include ingredient gardens, exposed shelving, and storage of fresh foods, even going as far as glass refrigerator doors, and then down to in-home composting systems. Lastly, and in coordination with organic interiors, is the use of natural materials in the building of and decorating of the kitchen. Wood, stone, and wicker helping to bring nature indoors and tying all the elements in together.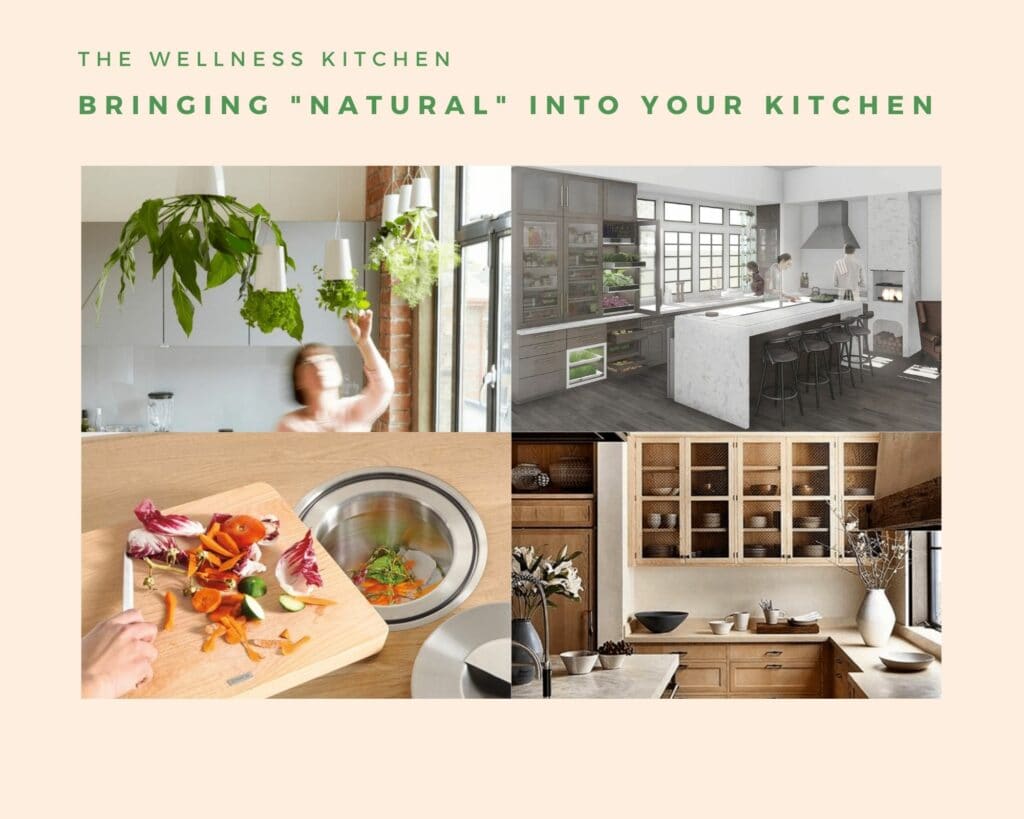 For weddings, we will continue to hear the request for "farm-to-table" menus with the possible additional extension of a thorough look into what farms product is coming from and couples possibly wanting a say in where food is sourced and even going as far as listing those sources for guests to see. It is a great way to involve wedding guests in the natural resources the couples are sharing with them. We will also see a growing trend of beautiful displays for catering, a desire for a more open kitchen experience and unique table service to really involve guests in the culinary experience of the event.
In regards to design, more "bring nature inside" will be heading our way! Couples will continue to look for natural destinations and more unique ways to bring their surroundings into the event space. Whether it's in a heavy, plant lover's style with voluminous greenery and extravagant ceiling installations or simpler, cleaner design for a more modern design, it will be a beautiful age for design.
In New England, weddings and events are ahead of this design trend, having specialized in organic, local cuisine, and outdoor, environment integrated designs for some years now. J&J's wedding is a great example of the organic interiors trends we're seeing. With a heavy focus on greenery, living plants, and wicker elements, their wedding felt very natural and organic. The use of natural tones throughout the design and keeping the grass exposed in the tent created a summery dreamscape heavily influenced by the bride's mother's love for live plants and gardening. We look forward to many more interiors influenced by this style!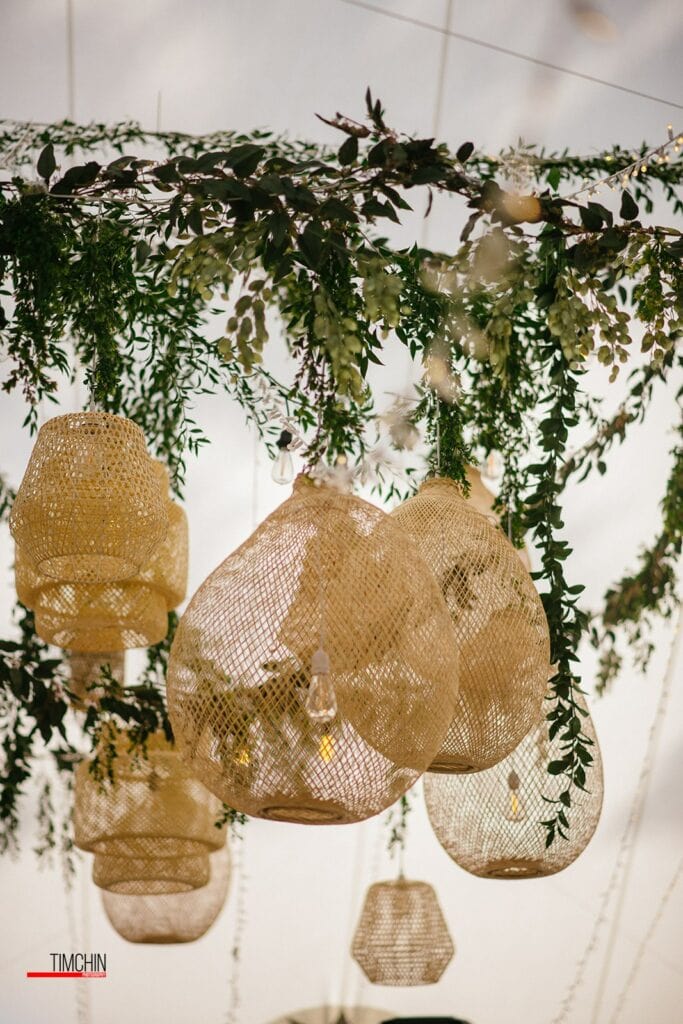 K&D's "floral" design is a great example of a wellness focused event. Two incredible athletes, this couple wanted to ensure that there was little to no waste at their weddings and that guests were invited to a delicious, green-conscious event. A carefully selected menu shared in family-style provided the farm-to-table experience Vermont is known for, however, it did not end there. Apotheca Flower Shoppe created stunning centerpieces out of vegetable plants that reflected the season and the organic, local design focus the couple sought. Post-wedding, much of the centerpieces were distributed out and the couple was able to continue enjoying elements from their wedding while cooking in their own kitchen, back at home!
Finding unique ways to incorporate wellness, such as veggie centerpieces, is what we're looking forward to as this continues to grow and develop as a lifestyle trend. This will not only influence design, and cuisine, but will begin to shape the way companies conduct their business. Letting couples know what steps the company is taking to ensure a greener commitment will become an essential part of booking and it's time for everyone to begin considering what green goals they are setting for 2020 and years to come!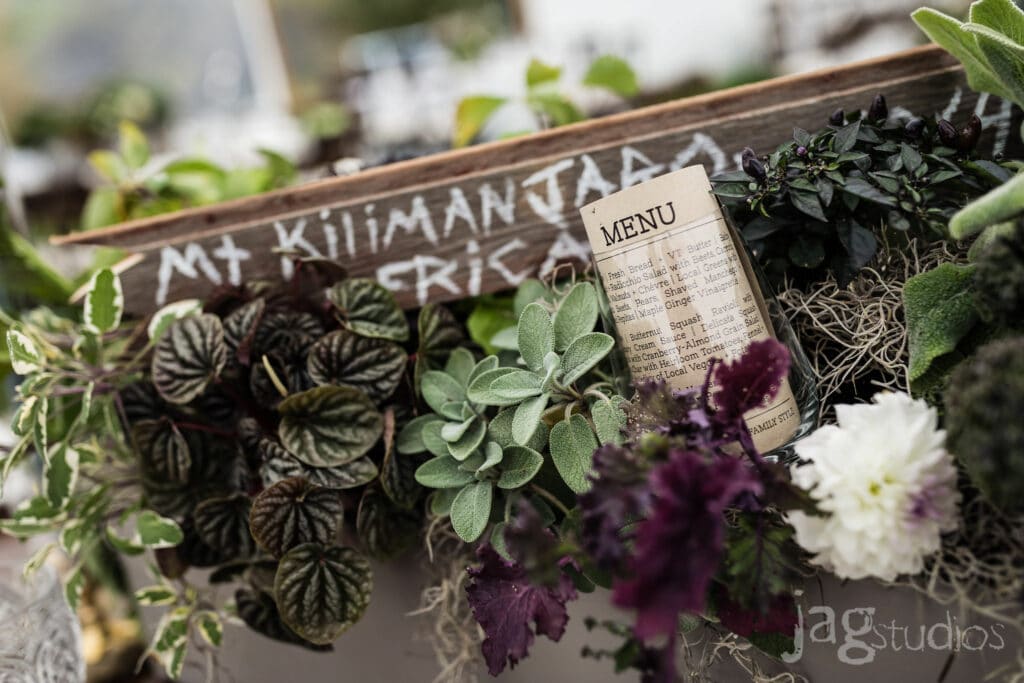 J&J Wedding:Rentals: Vermont Tent Company, Photography: Tim Chin Photo, Lighting & Draping: Drape Art Designs, Floral: In Full Bloom, Venue: Shelburne Museum, The Brick House, Catering: Cloud 9 Caterers, Bar: Fluid Bar Service, Stationery: Christa Alexandra Designs, Dessert: Birchgrove Baking
K&D Wedding:
Rentals: Vermont Tent Company, Photography: JAG Studios, Floral: Apotheca Flower Shoppe, Venue: Reading Farms Estate, Catering: Let's Pretend Catering, Bar: Fluid Bar Service, Stationary: Admire Design
xoxo
Stephanie,
JWE Wedding Planner